---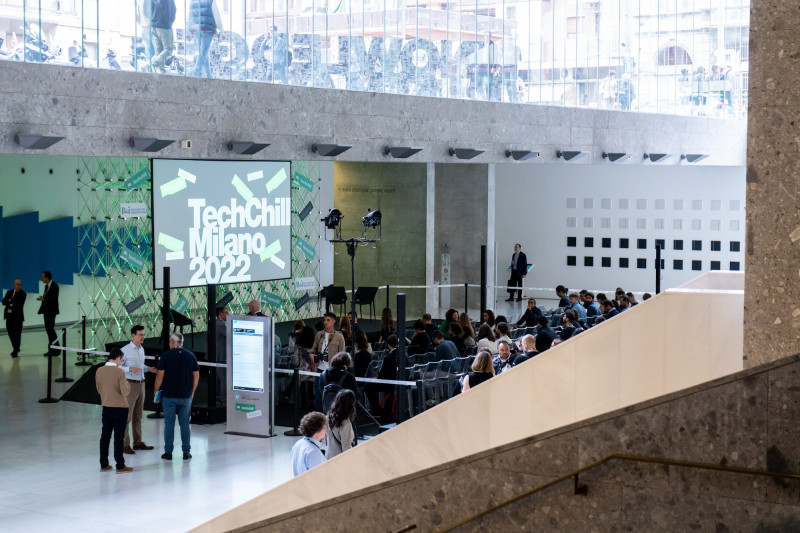 During the first day of
TechChill Milano
- Italy's first major international startup conference - the event confirmed their intention to continue organizing the conference. The next TechChill Milano event is scheduled to take place in the fall of 2023, thus dedicating itself to a further year of supporting the Italian startup ecosystem.
The first year of TechChill Milano, held at Bocconi University, has brought together 120+ investors and 460+ startup representatives from 29 countries and over 1000 attendees.
"We want to put the Italian startup ecosystem on the map. This first year is the MVP - the most important part of a successful event is the people, and they majorly turned up. We feel the interest from the Italian startup community, and our intention is to stay, continue growing TechChill Milano, as well as the local ecosystem. "
-
Marija Rucevska, TechChill Member of the Board
The event is made up of the main conference, which spans the course of two days of keynote speeches, panels, and fireside chats from 50 speakers from around the world. Practical learning opportunities and networking is delivered through 7 masterclasses and 16 side events.
"TechChill Milano clearly revealed the high level of interest in the startup ecosystem,"
said
AEHRA's Global Chief Marketing Offices, Andy Abramson
, a veteran of 56 startup exits around the world.
"Seeing the enthusiastic interest in early stage companies by venture investors was a solid proof point that TechChill enabled."
TechChill was originally held in Riga, Latvia in 2012. Having grown the event to 2500+ attendees, the event played a major role in putting the Baltic ecosystem on the European map. After celebrating 10 years of the event, the TechChill team has stepped out of its Latvian borders.
"The decision to expand to Italy is based on a variety of aspects, including local demand, international interest, ecosystem support, and our own organizational goals. Here in Italy, there are passionate people, investors, and media, who really want to make TechChill happen in their community. We've found that the magic formula is to have an operational team that knows the organizational process, that works in close co-operation with the local ecosystem. " -
Annija Mezgaile, CEO of TechChill
--------
About TechChill
TechChill is a startup community non-profit that hosts the largest tech event in Latvia and is now expanding its scope to include Italy. Having grown from a small grassroots movement of like-minded tech enthusiasts, TechChill celebrates the best of the startup community by annually bringing together thousands of attendees, including fastest-growing startups, most innovative corporations and speakers, investors active in the region and talented tech enthusiasts.
For more information: TechChill.co, TechChillMilano.co
---
Trending Now